You can now create Landing Pages and track the page views, unique visitors, conversions, and more!
Here's how to get started:
From your Robly dashboard, click Landing Pages > New Landing Page +.
2. Choose which type of landing page you want: with signup form or no signup form. Then, click Create Landing Page.
3. You will be taken to the Landing Page Builder. This is where you'll be able to name your Landing Page, set the URL and page title, and edit the design. If you chose to create a Landing Page with a signup form, you'll also be able to manage your audience and set behaviors.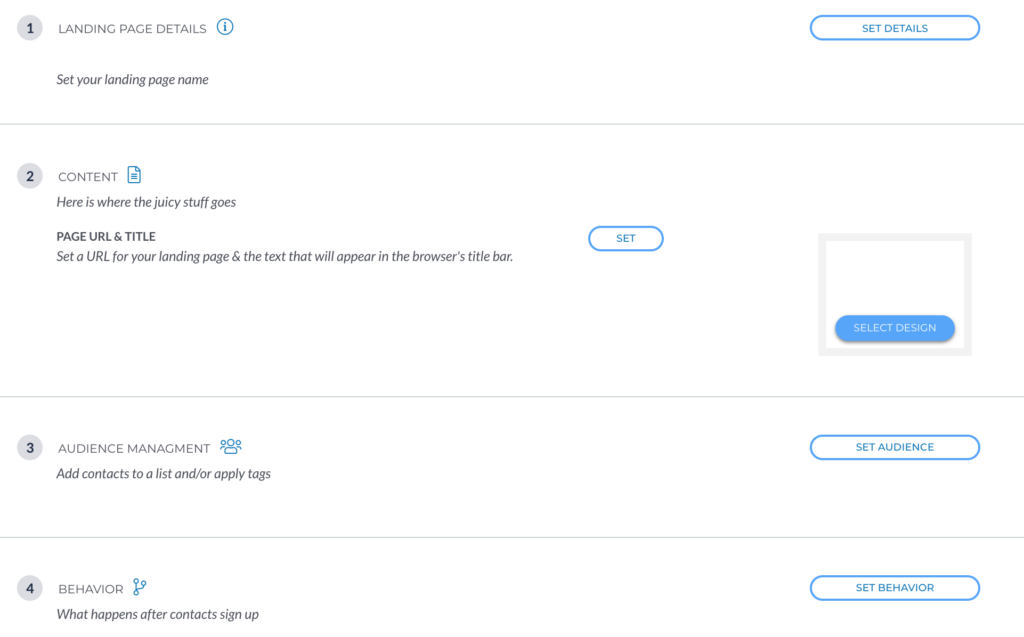 LANDING PAGE DETAILS
Click Set Details. Name your Landing Page and add your Google Analytics Tracking code (optional). When you're finished, click Save Details.

CONTENT
Click Set. Then, paste your Page URL (ex. thank-you-page), and add your Page Title. When you're finished, click Save URL & Title.


You will also need to Select a Design for your Landing Page. This will take you to your Template options, where you can select and edit the design for your landing page.

AUDIENCE MANAGEMENT
Click Set Audience. Select one or more Lists you want to add your contacts to once they are collected from the Landing Page. You can also select one or more Tags to add to these contacts. Search for the List(s) and Tag(s), and click the ones you want to use. Then, click Save Recipients.

BEHAVIOR
Click Set Behavior. Choose what you want to happen after the contact signs up on the landing page's form. You can also see what this will look like by clicking Preview at the bottom. When you're finished, click Save Behavior.
4. After you build your Landing Page, click Publish Landing Page at the bottom.
5. Once you've created your Landing Page, it will appear on the main Landing Pages list. You can view the page's name, choose if you want it to be Published (YES/NO), see Page Views, view the number of Unique Visitors, and view the number of Conversions.
6. By clicking the three dots to the right of the landing page name, you can View, Edit, Report, Copy, Save To Template Gallery, or Delete the Landing Page.
VIEW
You can view your Landing Page.

EDIT
This will take you back to Build Landing Page.

REPORT
See an Overview of your landing page report, including page views, unique visitors, conversions, and the conversion rate. 

You can also view and export your signed up Contacts.

COPY
Copy the landing page and give the copy a name. The duplicate version will appear on your Landing Pages list.

SAVE TO TEMPLATE GALLERY
You can save a design to your Template Gallery, allowing you to reuse it to make new Landing Pages. Name the template, and click Save Template.  

DELETE
This will permanently delete the Landing Page. If you want to delete it, check the box, and click Delete. This action can't be undone.